Meet the Team
Mario Gonzalez » Broker/Realtor/Property Manager

Mario Gonzalez is the Founder and Broker of Navy to Navy Homes in Jacksonville, FL.  A 24 year retired Navy Pilot, his sense of dedication to service is apparent in his real estate company.  Navy to Navy Homes is a full service real estate brokerage that specializes in Property Management, Sales, and Relocation Services for military families in the Jacksonville area.  Their continual focus on the customer and rewarding others has made them a local favorite in the Jacksonville real estate market.  They offer their services to all members of the community and have special incentive programs for local community heroes (Police officers, fire fighters, medical personnel, military personnel and teachers), through the Homes for Heroes program.
Mario has Bachelors of Science from the US Naval Academy in Electrical Engineering and a Masters of the Arts in Leadership and Human Resource Management, from the Naval Post Graduate School.  He taught various leadership classes at the Naval Academy and has instructed a variety of Naval subjects over his 24 year career. Training his agents and educating the community in all aspects of property management, is his passion.
He is an active volunteer with many local and national organizations that help veterans and military members, around the globe. He is currently a volunteer local youth soccer coach on Mayport Naval Base, working with many kids with deployed parents.  His coaching has spanned from park and recreation soccer to Women's College Lacrosse at the Naval Academy.
He continues to be active in numerous aspects of real estate.  Since 1998 he has been an investor, homeowner, landlord, property manager, realtor and real estate advisor.  He is an active member of NEFAR (Northeast Florida Assoc of Realtors) and sits on their EATF (Education Action Task Force) and has been named their Chair for 2015.  He is an active member of NARPM (National Assoc of Residential Property Managers) and is the Education Chair for their local Northeast Chapter.  In addition to being a Realtor and Broker, he holds the GRI and MRP designations and is an approved Florida Realtors Instructor for multiple subjects in Real Estate and Property Management.
---
Lori Favre » Realtor

Lori Favre is a sixth generation Jacksonville, Florida native, and the daughter of an U.S. Army, Airborne Veteran, P.C.B.C. She has a Bachelor's of Science in Psychology from the University of North Florida where she graduated Summa Cum Laude.  As an active member of the community and volunteer, Lori gives her time at International Canine Narcotics Detection Center. She also gives time training animals for S.A.F.E. and P.A.W.S.
Lori has gained a substantial amount of experience and knowledge of the housing market over the past twenty-eight years while working in the civil engineering field. She was able to use these skills to become Vice President of North Florida Engineering Services, Inc. Through her journey, she has cultivated a passion for the real estate industry. As a realtor, Lori brings abundant energy, creativity, and dedication to her field. With a commitment to detail, she will do her best to provide a smooth and easy going transaction for your next purchase or sale on the First Coast.
---
Katie & Eric Hinojos » Realtor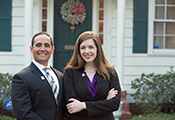 Katie and Eric Hinojos are no strangers to the sacrifices our Armed Forces face while honorably and selflessly serving in our Nation's military. As proud Navy Veterans, they know how challenging and difficult moving from place to place can be. Katie and Eric are here to help you navigate these waters as you consider your next housing need. Their goal is to make your next housing adventure as smooth and enjoyable as possible, so you can spend your hard earned free time with friends and family. Their professionalism and can-do attitude is sure to leave a lasting impression and you will know that your housing needs are being cared for as if they were their own. Se habla español!
---
Bailey Jordan » Realtor/ Property Manager

Bailey Jordan is a long-time Jacksonville resident and proud graduate of Florida State University in Tallahassee, Florida. She grew up as the daughter of a Navy Pilot, learning her way around this great city.
Her life-long interest in realty began around age five when her parents began investing in real estate. Eventually, her parents' dabbling fueled their passion, and their own property management company was launched in Jacksonville.
Bailey is well acquainted with a wide of range property management topics, but her true gift is helping people. As a Navy brat, Bailey understands the obstacles that come with relocation and the need for a seamless transition during such tumultuous times. As such, you are bound to receive amazing customer service whether you are buying, selling, or even looking for a rental property. Bailey is eager to help you, call her today!
---
Kathy Jordan » Realtor/Property Manager

Kathy Jordan is a Jacksonville native with a long and distinguished history of serving others in the Jacksonville community. She hit the ground running with Navy to Navy homes and has impressed everyone with her extraordinary compassion to help others with their real estate needs. Kathy has a way of always going that extra mile to help her clients with whatever their needs may be. Whether buying, selling, or renting Kathy has your best interest at heart. She is bound to impress.
---
Patty Jones »

Patty is a Jacksonville native who exemplifies integrity, enthusiasm and hard work! She grew up on the Northside, attended high school on the Westside and is a magna cum laude graduate of Jacksonville University in Arlington. She has lived in Mandarin for more than 25 years, and she is also a former Miss Jacksonville. Patty has a strong commitment to her faith and family; Patty has been married to her husband Chris, a police officer with JSO, for more than 25 years. Together, they have two sons, Jordan, a University of North Florida graduate and Campus Minister, and Zachary, an Army National Guardsman and Community Service Officer with JSO. She has more than 22 years of sales experience and wants to put it to work for you. Patty loves Jacksonville and her neighborhood, and wants you to, also!
---
Marianne Marees Bach » Realtor

Marianne was born & raised in Jacksonville, where she lived all of her life until her recent move to St. Johns County. She is an High Honors graduate from the University of Florida. She is a sports enthusiast including her love of the Jags. Her dad was a WWII vet & she has a number of friends & family members, who served in the military. She has spent her life working in positions of leadership & service to others. You can count on professionalism, dedication, caring & great customer service from Marianne. She will make sure your housing needs are met.
---
Nelson Ortega » Realtor/ Property Manager

Nelson Ortega is a well-established Realtor and Property Manager with Navy to Navy Homes.  As an owner of investment property himself, he understands Landlord concerns 100%.  His passion for helping military members began as he was raised the son of an Army man.  He started in this business on the Maintenance side so there is almost no housing need that he isn't acquainted with and as such he is a wealth of information for saving money for our owners and tenants alike.  He is passionate about helping others achieve their real estate goals whether it is renting, buying or selling.  He is among the hardest working people you will ever meet in your life.  If you aren't a friend of Nelson's yet, you will be after meeting him!
Se habla Espanol!
---
Christy Pintar » Realtor/Property Manager

Christy Pintar has been a native to the Jacksonville area for the last 16 years. She has a heart to help others and will be sure to gain your trust when it comes to property management and finding the perfect rental home for your family. Christy is heavily involved with serving others through community services and church activities. She also serves those who are interested in buying or selling. Christy's authentic and optimistic personality will leave you wanting to be her friend after meeting her if you are not already! She is ready to help you with whatever your real estate needs may be.
---
Susan Severson » Realtor/Property Manager

Susan Severson is an amazingly skilled agent who came to Navy to Navy from a larger Jacksonville agency, in effort to focus her efforts on serving men and women in uniform. As a successful entrepreneur and business owner, Susan is no stranger to hard work and dedication. She is a well-known real estate professional that serves on leadership positions in the Women's Council or Realtors and the NE Florida Assoc. of Realtors. Her professionalism and capabilities with any of your real estate needs will be unparalleled. She will exceed your expectations!
---
Vanessa Smith » Realtor/Property Manager

Vanessa Smith is a fantastic addition to the Navy to Navy Team. She has a lifelong career of dedication to the military contingent here in Jacksonville. She has served men and women in uniform by working full time at both NS Mayport and NAS Jacksonville. She now continues her passion for helping others as a leasing and sales agent with Navy to Navy Homes. She is sure to greet you with a smile and Se habla espanol!
---
Susan Counter » Realtor

Susan Counter moved from the desert Southwest, where she received her Real Estate License, to the East Coast in 2004. She moved to Jacksonville with her military family and lives here with her husband, Patrick. She began her career as the Bookkeeper for Navy to Navy Homes from January, 2013 to March, 2018 and during her service there Susan received her Northeast Florida Real Estate License. Susan is dedicated to the Navy to Navy Homes team and has a heart to assist you with your Real Estate needs.
---
Glen and Lusanne Thompson » Realtors
With a strong family background in military service, both Glen and Lusanne are well versed with the knowledge and understanding it takes to help such families. As Jacksonville Natives, they are both also well versed in the area and can be sure to help you maneuver finding the perfect part of Jacksonville and its surrounding areas for you and your family. They would love to help you! Reach out to the Thompson Team today, they are always giving people a reason to smile!
---
Melanie Warden » Book Keeper
Melanie Warden is a necessary part of the Navy to Navy team. Whether you are having difficulty paying your rent, have a question about your rent disbursement as an owner, or needing to submit invoices as a vendor, you are sure to receive the best customer service from Melanie. She has been with Navy to Navy for the last several months and we hope to have her around for many more.
---
Lee Dozier » Administrative Assistant

---